About us
Steve and Shelley have been sailing together for over 37 years, having started out buying a 16-foot trailer sailer with a hole in its hull. They repaired the boat and taught themselves how to sail dodging coal ships in Gladstone Harbour (Queensland) and running into every sandbank in Port Curtis! They've been sailing ever since and were even engaged and married on boats.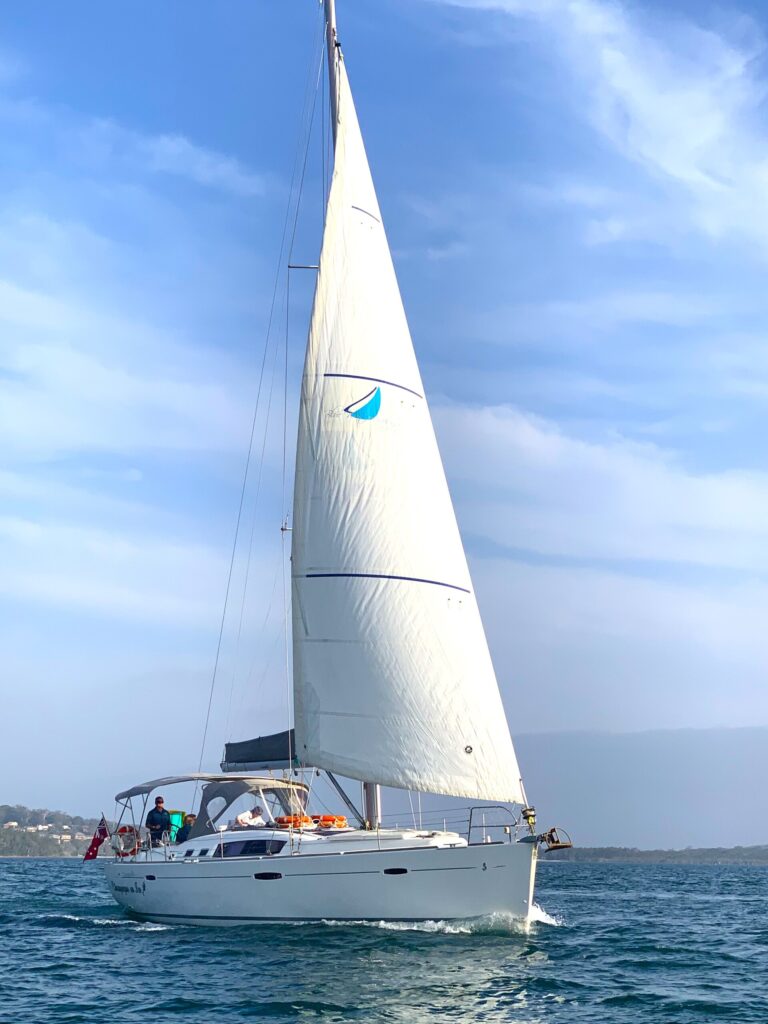 'Champagne on Ice' is a Beneteau Oceanis 46 sailing vessel. Built in France, she is fast, modern, comfortable, and safe.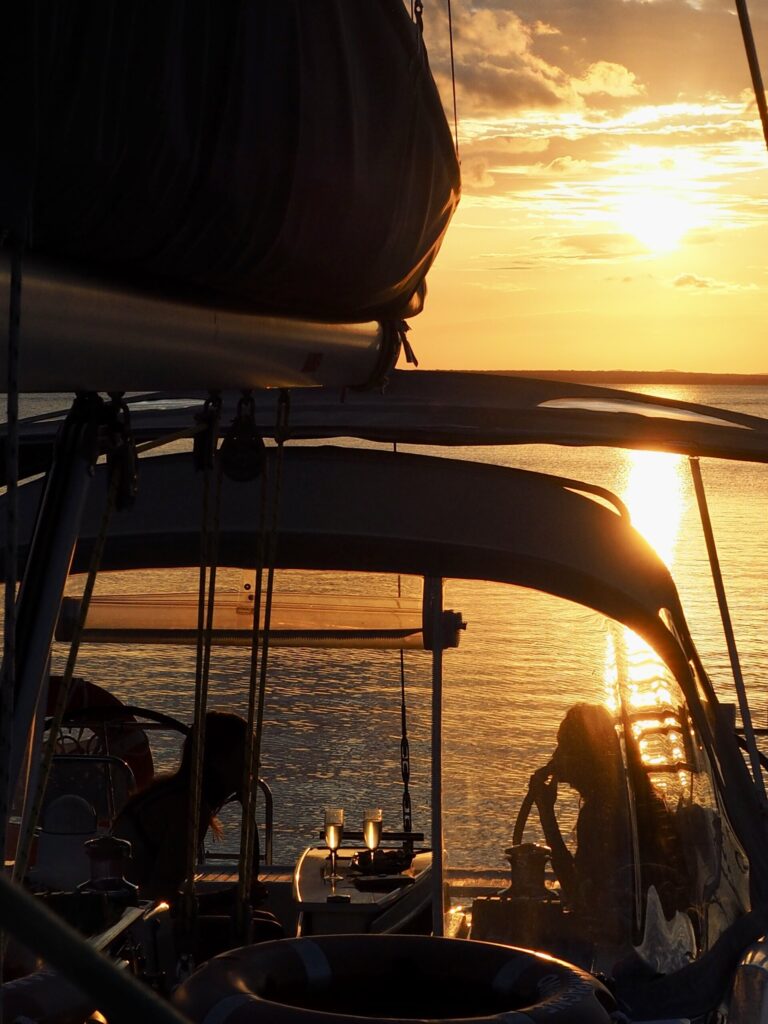 Steve holds a Bachelor of Science and is a Master V captain and MED III. Shelley is a geographer and scientist with a first class Honours degree, Masters and PhD (her research includes past sea level change along the Great Barrier Reef and the conservation of dolphins and sea turtles in Lake Macquarie). She is the founder of the Women Who Sail Australia group and editor of a sailing magazine for women.
Steve and Shelley enjoy sharing their passion for the marine environment and boats with guests aboard 'Champagne on Ice'.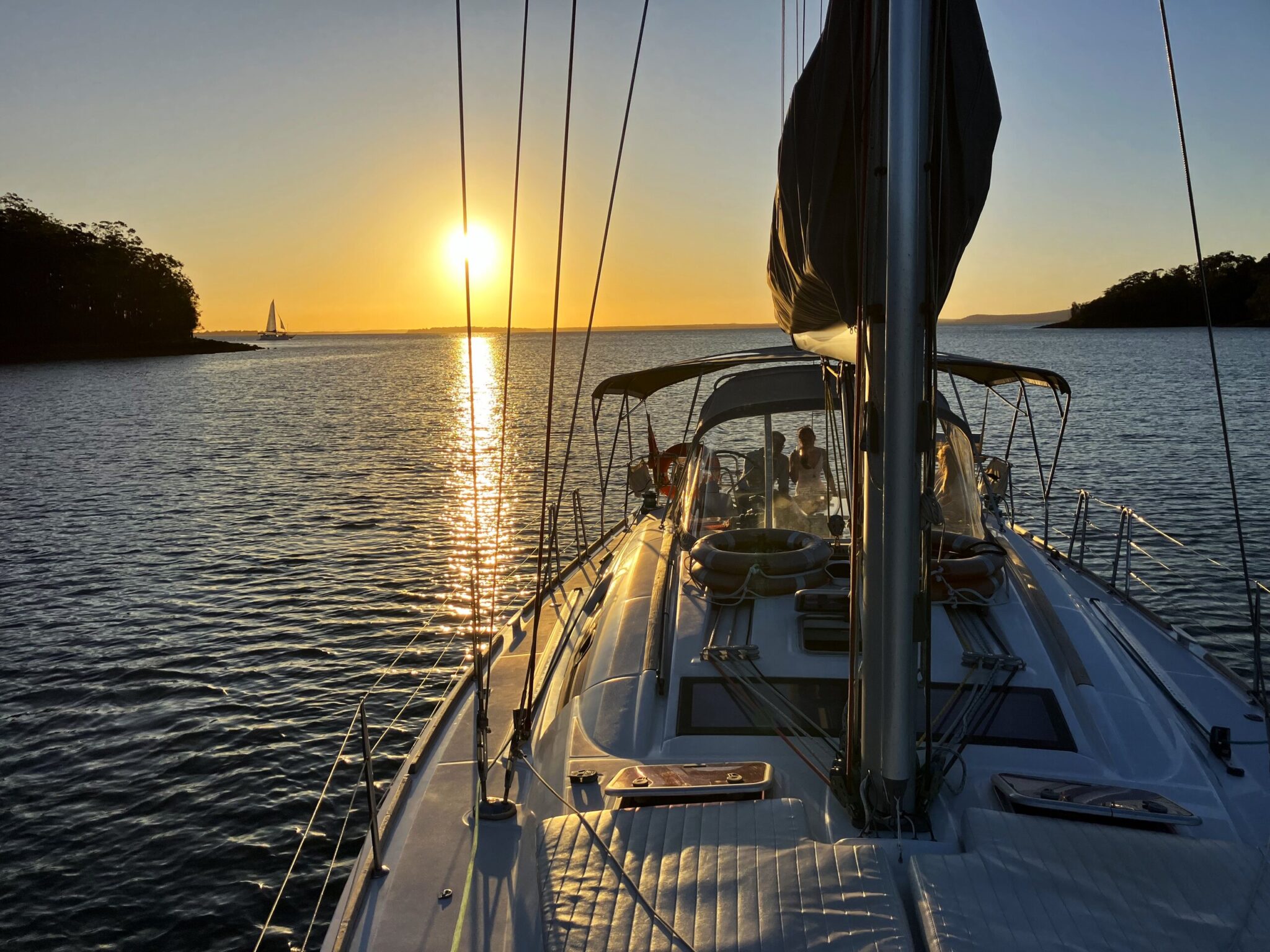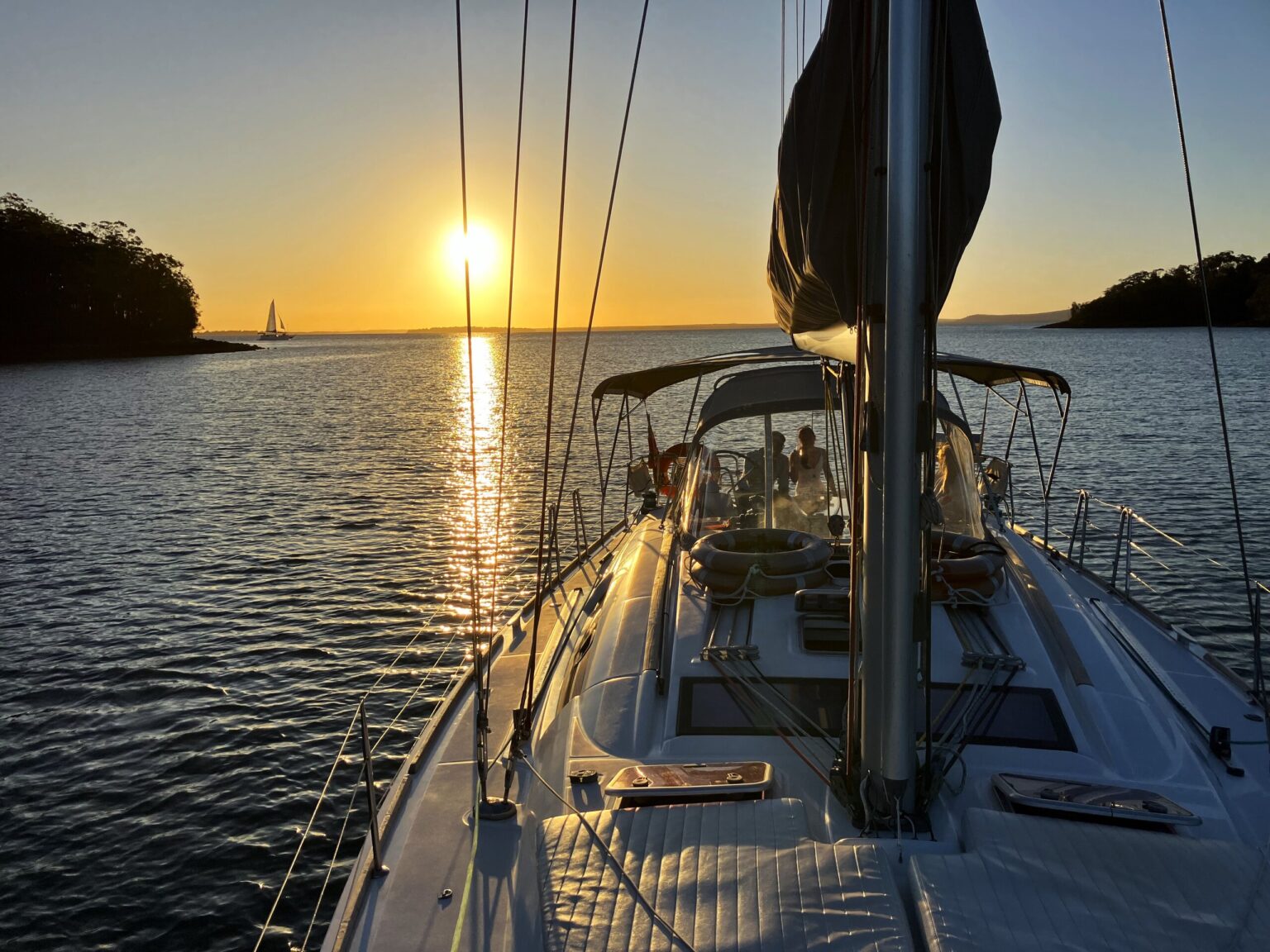 Our Cruises
Cruise Packages
Whether you're after a family day out, romantic escape, or corporate group outing, step aboard our luxury yacht 'Champagne on Ice' at the Anchorage Marina, Corlette Point, located 2½ hours north of Sydney, and sail Port Stephens in style.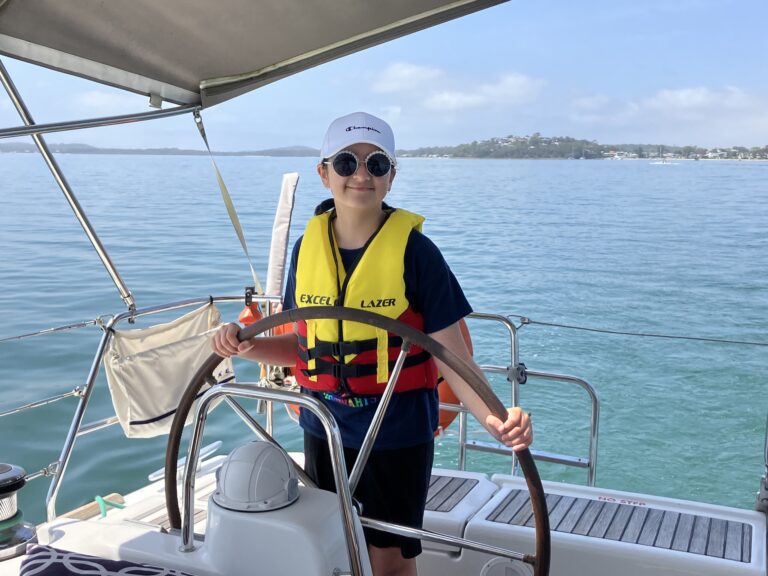 Harbour Sail
Join our luxury yacht exploring the sheltered waterways of Port Stephens, and discovering dolphins, sea turtles, and sea birds along the way.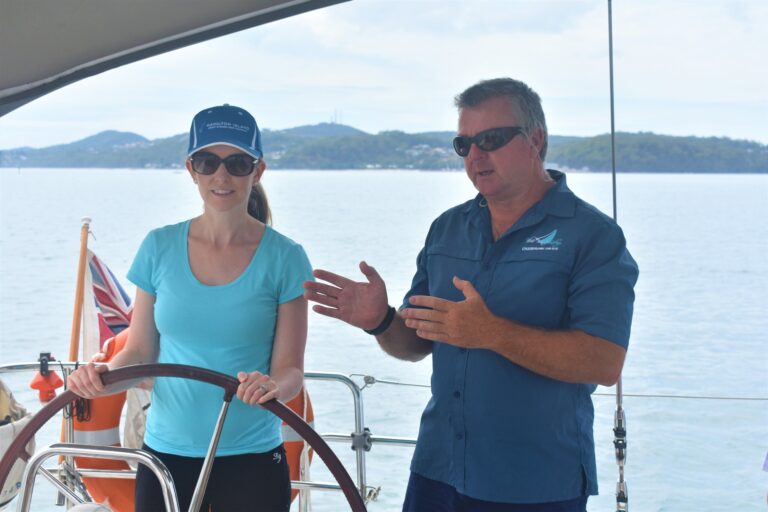 Learn to Sail
An introduction to sailing from our experienced and friendly crew. The crew will talk you through some of the basic skills and concepts of sailing before letting you take the helm and work the winches.
*Beginners welcome!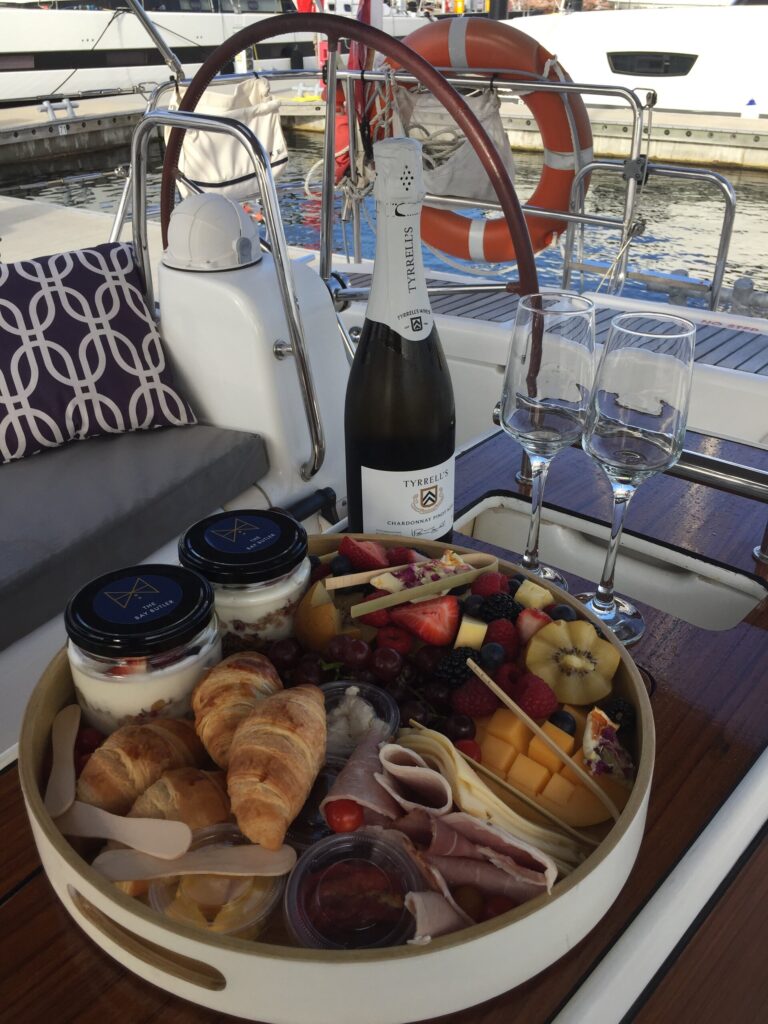 Breakfast Cruise
Start the day with a relaxing cruise, soak up the views while enjoying mimosas and a delicious breakfast platter.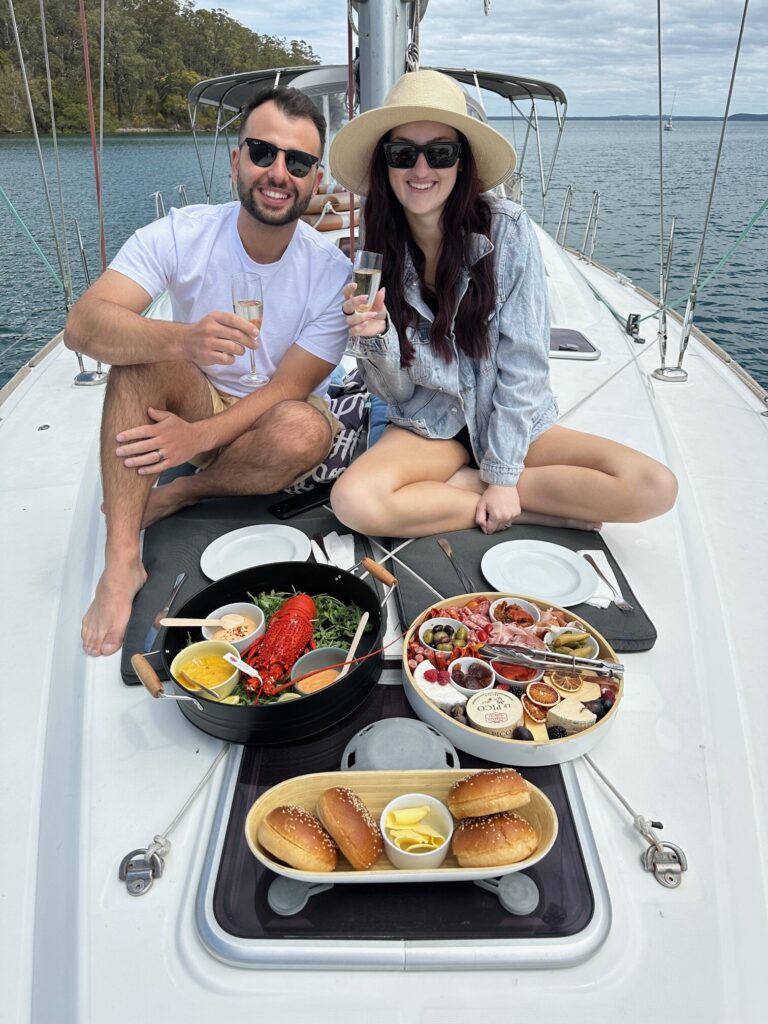 Luncheon Sail
Enjoy a mid-day sail to one of many white-sand beaches or secluded coves. Plunge into the crystal-clear blue water.
Luncheon menu includes freshly shucked oysters, fresh local lobster, and prawns. (Other options include gourmet grazing platters. Vegetarian also available). Wine or beer included.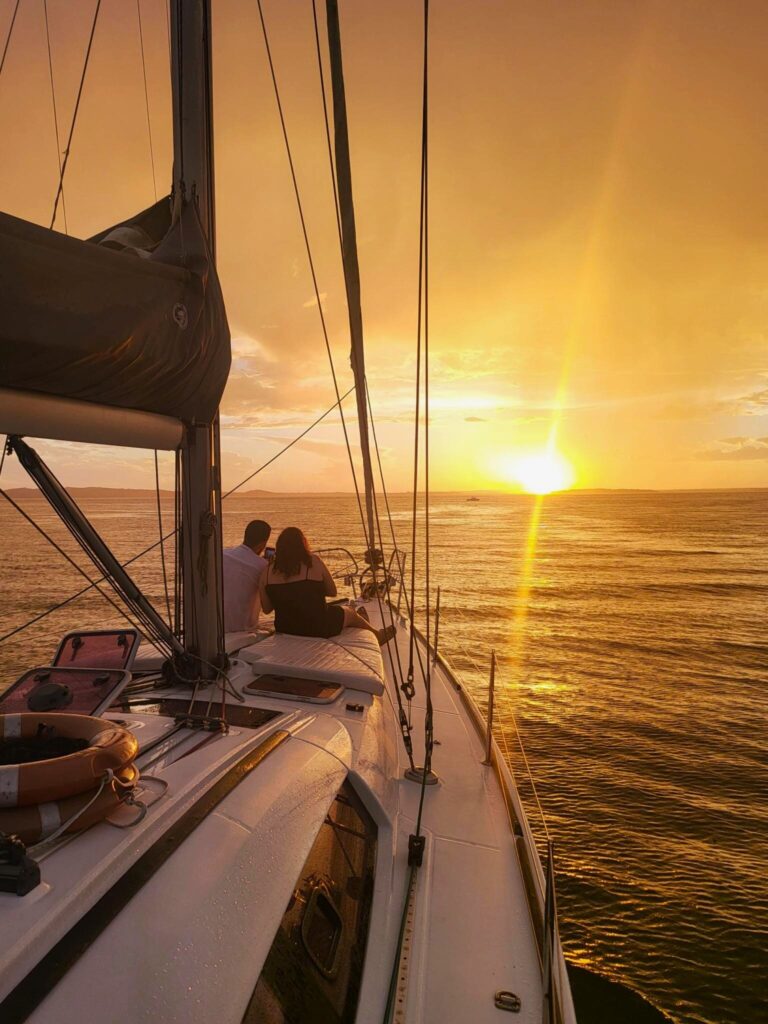 Sunset Cruise
Cruise to a secluded cove where we drop anchor and relax with a glass of bubbly, some cheese, and the freshest of the Port's oysters as the light turns golden.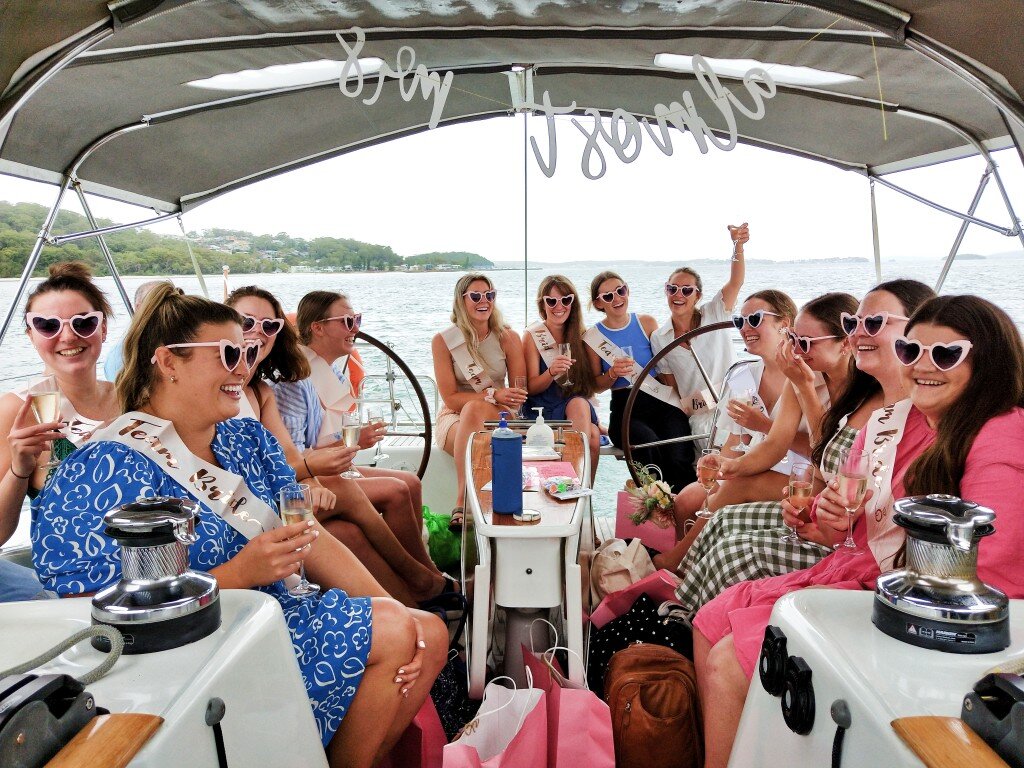 Exclusive Charters
The only thing better than being aboard a Blue Water Sailing cruise, is having the yacht all to yourself!
Exclusive charters give you the option of booking the boat for just two of you, a corporate or other small group, or a family. Exclusive cruises can visit all the same wonderful attractions as our regular cruises. Our private charters are skippered and crewed by our experienced and friendly team so you can be perfectly relaxed.
Catering options and beverages available on request.
Special Occasions
Proposals and Weddings
'Champagne on Ice' is known as the queen of romance! Let us arrange a memorable cruise for your proposal or your wedding day. Picturesque Port Stephens is a stunning backdrop for a lifetime of memories and our luxury yacht is the perfect vessel for your special occasion.
Happy Customers
Testimonials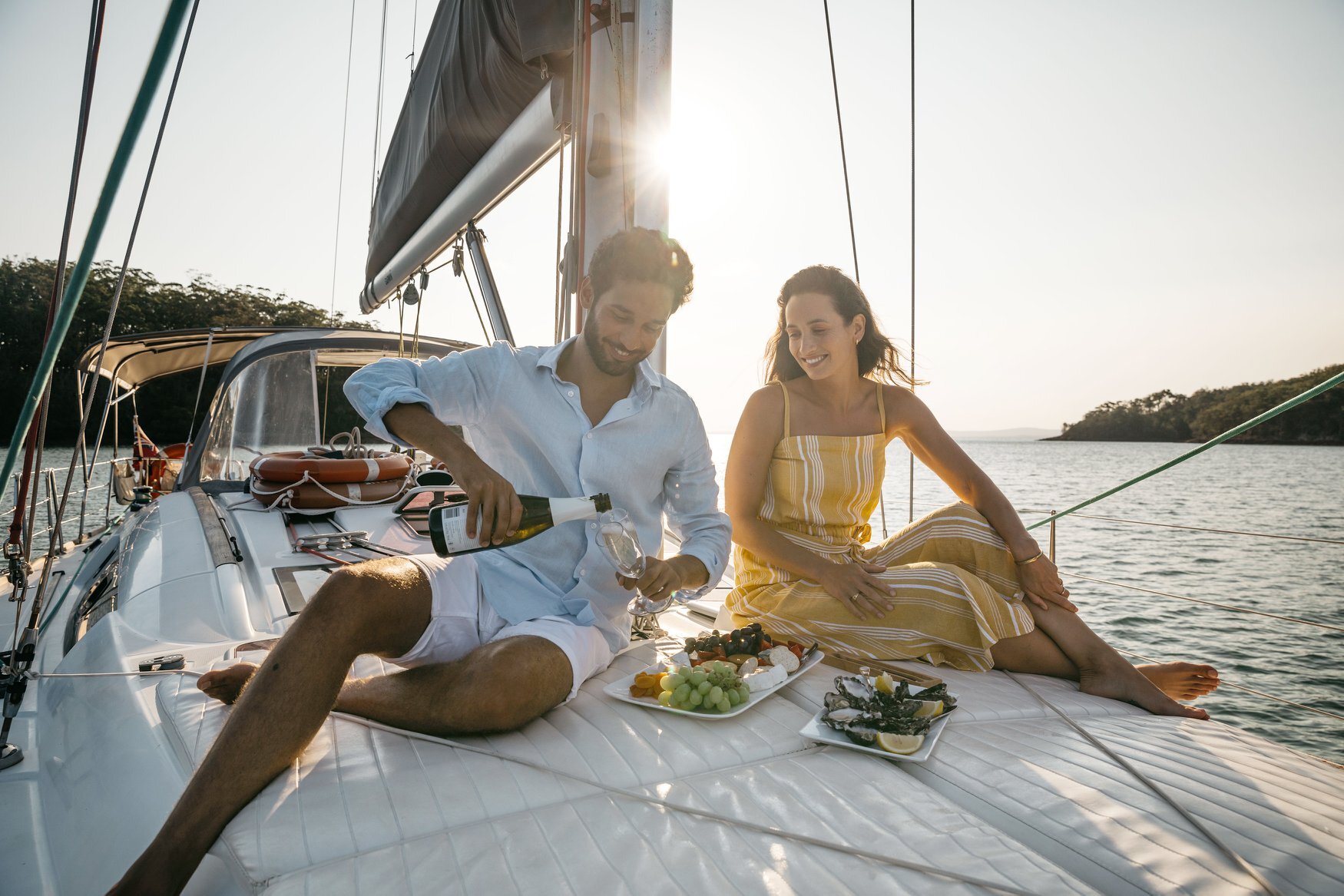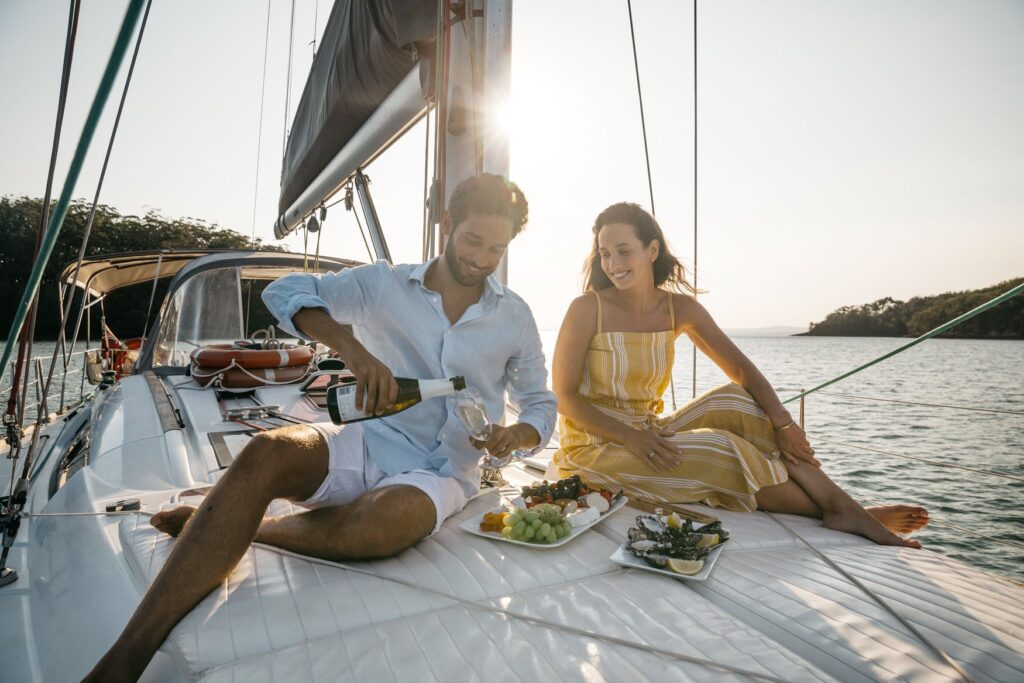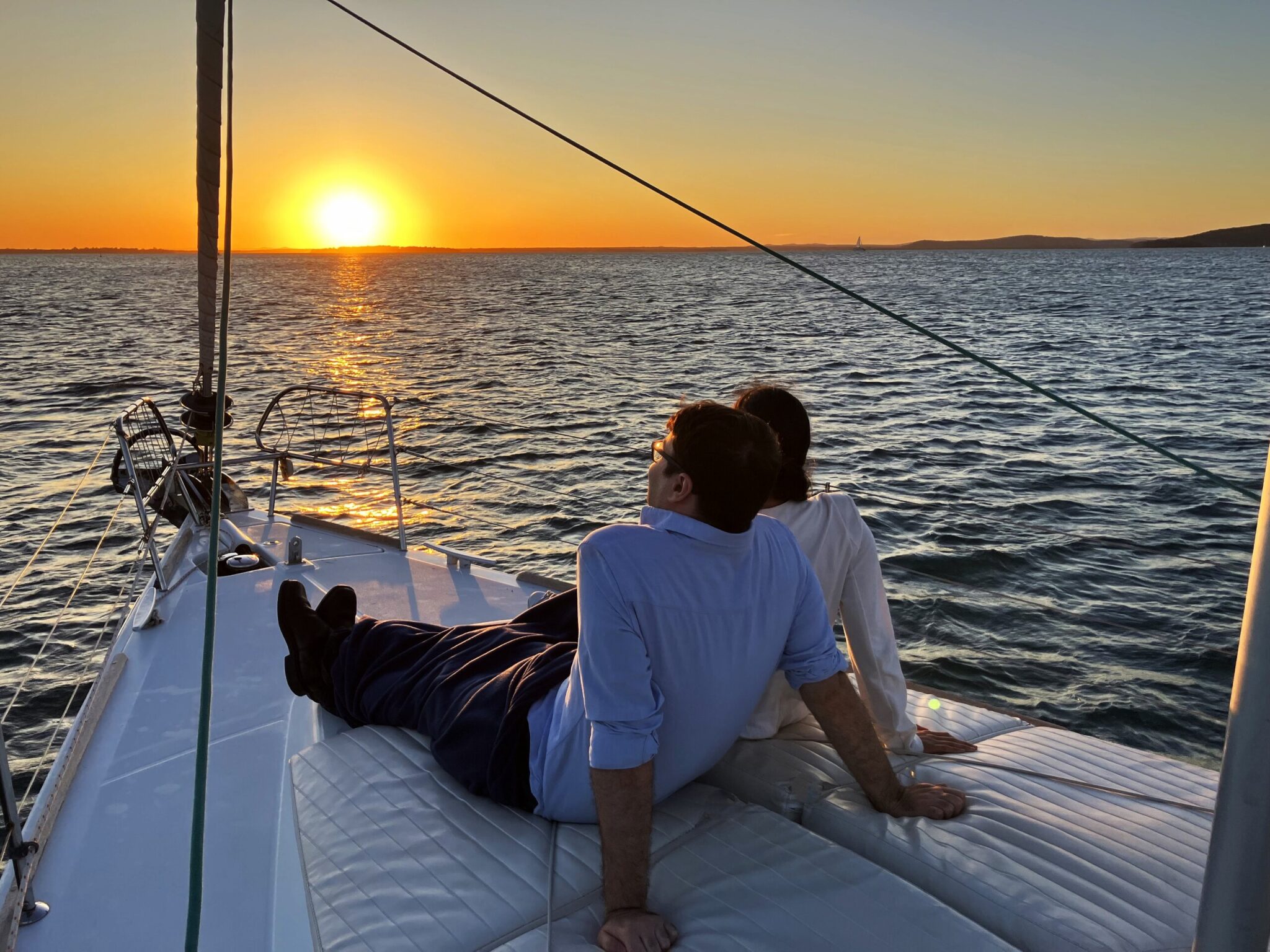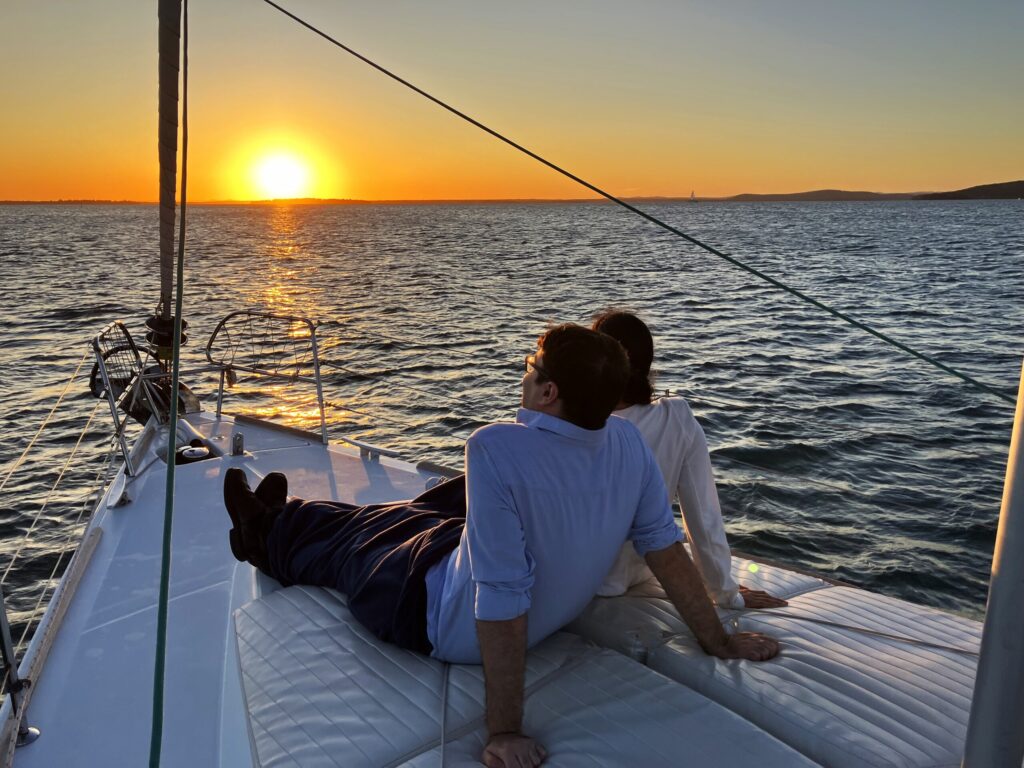 Nelson Bay Fish Market
Nelson Bay Fish Market is a family owned and locally operated business supplying fresh seafood to Port Stephens residents and visitors.
The Worimi peoples are acknowledged by Blue Water Sailing as the Traditional Custodians of the land and waters situated within the Port Stephens area, including wetlands, rivers creeks and coastal environments. It is known that their heritage and cultural ties to this area date back tens of thousands of years.